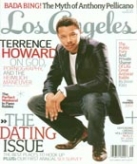 Los Angeles, August 21, 2007
ModernVintage.com, an on-line jewelry store for women announced today that one of its designs, the Silver Leaf Resin Bangle is currently featured in the September 2007 issue of Los Angeles Magazine. The photos by William+Hirakawa are in the Fall Fashion section titled "Wrap Star."
Modern Vintage jewelry is crafted in Luxane™, a state-of-the-art polyurethane resin. The Silver Leaf Bangle has pure silver leaf boldly embedded within each bangle and is completely hand-cast from a custom mold. Available in clear with pure silver or 23 karat gold leaf at $100.00 and can be purchased on-line at www.modernvintage.com.
Modern Vintage is a one-woman, startup company based in Los Angeles, CA. Founded in 2006, the company is dedicated to making vintage-inspired resin designs for women. Press Contact: